I am linking up with Dani over at My Little Apricot for my Weekly Weigh-In. Click the button below to go to her blog and read about it.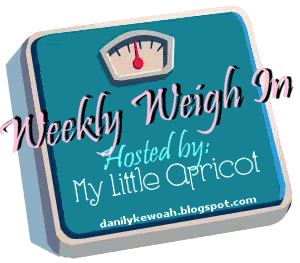 Well it's that time again. Weigh in time! And I am definitely excited about what the scale told me this morning!! I said I wouldn't take another picture of my scale but I had to today haha.

Start Weight (7/8): 206 lbs
Last Week: 194 lbs
This Week: 189 lbs

Goal Weight by Dec: 178 lbs
Goal Weight Overall: 165 lbs


I think the key was not pigging out this weekend. The last few weeks of traveling have really effected my weight but being at the house this weekend was good. We did tailgate but I didn't really eat much, just snacked on the veggie tray and had the obligatory pulled pork sandwich and hot dog (with pulled pork and baked beans on it!! haha).

I am excited, it is much needed motivation. I also was able to fit into another skirt this week and I dared to try on one of my work skirts... it's tight, I look like a stuffed sausage but I can zip it up!!